Amprocox Poultry Drug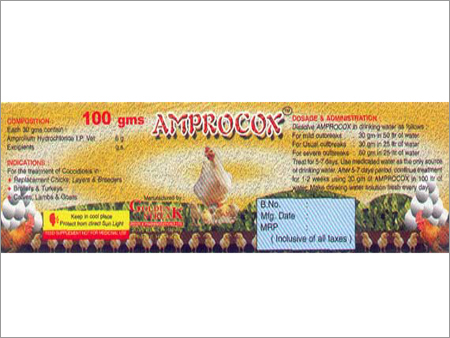 Amprocox Poultry Drug
Product Description
Amprocox Poultry Drug
We are a professionally managed fast growing company with impressive track record for manufacturing and supplying Amprocox Poultry Drug. These are formulated in our well equipped production unit by employing high quality chemicals sourced from trusted vendors of the industry. This drug is used in the treatment and prevention of coccidiosis in chicks and broilers. Tested and verified on various quality parameters, this high quality Amprocox Poultry Drug is offered in quality packaging at very affordable prices.
Specifications

Composition
Amprolium Hydrochloride 20 %
Vitamin K 0.2 %

Indications : For the treatment of coccidiosis in

1. Replacement Chicks, Layers and Breeders
2. Broilers and Turkeys
3. Calves, Lambs and Goats

Doseage and Administration : Dissolve Amprocox in water as follows:
For mild outbreaks : 30 gm in 50 litres of water
For usual outbreaks : 30 gm in 25 litres of water
For severe outbreaks : 60 gm in 25 litres of water

Treat for 5-7 days, Use medicated water as the sole source of drinking water, after the 5-7 days period, continue treatment for 1-2 weeks using 30 gm AMPROCOX in 100 litres of water. Make drinking water solution fresh every day.
Contact Us
203/5, I.D.A., Cherlapally, Phase-II, Hyderabad, Telangana, 500051, India
Phone :+918045803446